Choose from Top 6 Best Alternatives to Yahoo Finance API
WebscrapingAPI on Nov 16 2022
Introduction
Yahoo financial APIs have risen in popularity among available finance APIs. However, with the advent of other rivals and the discontinuance of Yahoo Finance APIs, there are many beautiful alternatives to Yahoo Finance that may give the finest level of financial data for professionals to go through.
Yahoo's APIs featured outstanding features, unlike most working APIs in the financial data mining area. It had a clever method for calculating and transmitting information on bank shares, surveys, and stock recaps.
The communication protocol was intelligent in resolving the vast data stream in one commodity and supplied helpful charts to track money properly. Yahoo Finance, meanwhile, was terminated in what looked to be cost-cutting initiatives by Verizon.
Surprisingly, it was determined to be discontinued after the debut of new functionality in Yahoo's API. Indeed, there is no more dependable way to acquire unlimited access to inventory levels, and customers must pay for this information on an annual subscription basis.
Yahoo finance API alternatives have risen as technology has evolved and will continue to explore breakthroughs.
If you're seeking the finest Yahoo Finance alternatives, you will probably be dissatisfied with Yahoo Finance's capabilities, style, or cost.
Top 6 alternatives to Yahoo Finance API
Yahoo's financial API was an excellent pick. However, it has been terminated. So, if you're seeking a Yahoo Finance API replacement, you've reached the perfect spot.
That upset many customers, entrepreneurs, and businesses, large and small. When it comes to financing APIs, Yahoo's finance API has always been our top pick. It offered statistics on equities, economic media, and company financial statements. However, the Yahoo Finance API has been decommissioned.
So, if you're seeking a Yahoo Finance API replacement, you've reached the perfect spot. I have some options for Finance API solutions that might assist you in creating something similar to the Yahoo Finance app. So you can monitor your stocks, FX, and cryptocurrencies through stock market APIs.
You can become depressed after going through several APIs, juggling your thoughts, and contrasting the advantages. However, keep calm and don't stress when choosing one of these eleven APIs.
Bloomberg Finance API
As the importance of integrated platforms grows, there is a greater desire to incorporate Bloomberg content into private and third-party apps, whether for trading and order management, security, regulation, investment management, or statistics.
Users can use Bloomberg Server API (SAPI) to get actual demand, archival, valuable reference information, and computation capabilities. SAPI combines Bloomberg content with native and third-party client-server apps, giving SAPI a viable option for customers wishing to improve data management. It's a good option for clients who want something between Excel and a market data stream.
SAPI provides customers with a consistent picture of global markets whether they are managing orders, assessing risk, or analyzing portfolio
Features
Capabilities of the Bloomberg Open API (BLPAPI) application programming interface (API) include the ability for third-party apps, such as
Bloomberg, one of the most significant fintech companies, created it. It still has to establish that it can compete with old Google Finance APIs. To retrieve Bloomberg datasets through the Terminal and Bloomberg's financial data packages, use Microsoft Excel.
Advantages
A good substitute for the Yahoo and Google financial APIs.
It supports Excel futures, making it a viable alternative to Google Finance API.
Disadvantage
It's a little tricky to use.

2. Blockchain Finance API
Although Blockchain APIs are a natural progression for any virtual core service, they can also create unique challenges and delays. Developing your API gateways involves time, money, and expertise, which might be scarce for a new company or established business.
Startups increasingly realize that they depend not only on the tools that have dominated the current situation. Numerous online initiatives and platforms are available due to advancements in ledger technology and smart contracts over the past few years.
Features
This API is focused on cryptocurrencies. It enables users and programmers to engage with the system through a simple interface.
E-wallets and cryptocurrency transactions using the same address. It accepts XML responses, JSONP, and URI Query String/CRUD requests.
Advantages
Excellent virtual currency APIs
Simple & Easy to Use Layout
It can be connected to your coin purse
Disadvantages
It works well with coins but not with stocks or FOREX.

3. Insider Trading API
According to respective jurisdictions, "insiders" may have crucial confidential knowledge about a corporation. Any officer, employee, or individual who owns more than 10% of a corporation is considered an insider in financial markets.
Other traders may utilize such data for analytics; generally speaking, a high volume of previous insider purchases might be a positive or negative indicator.
Insider Trading API offers data you compile from insiders' SEC Forms 3, 4, and 5 accomplishments. So every document represents the symbol for the corporation, the time of the payment, the category of the transaction (such as a sale, a purchase, a grant from the corporation, etc.), the individual who conducted the payment, the description of the surveillance, the payment amount, and the number of equities this person currently owns.
Features
You may get assistance from Insider Trading API with share risk management and investing suggestions. Since Insider API is a REST API, it has several benefits. REST may deal with various call types, output data in multiple forms, etc. They offer so much freedom as one of their main benefits.
Based on the information it gathers from APIs for Regulatory registration data on any share or quotation in the US market, Insider Trading API might advise you about what to do with your holdings on the market.
Advantages
The risk monitoring function
REST API benefits
Agility, ability to handle several requests
Disadvantages
Compared to other APIs, it is more challenging to use.
Financial Media could be more diverse.

4. Polygon.io
With the sign MATIC, Polygon is both a currency and a framework for connecting and expanding blockchain systems. The Polygon portal links Ethereum-based businesses and runs on the Ethereum blockchain.
While maintaining the security, compatibility, and architectural advantages of the Ethereum network, using the Polygon platform can boost the adaptability, durability, and autonomy of a blockchain enterprise.
Since MATIC is an ERC-20 token, it may be used with other cryptocurrencies based on the Ethereum platform. The Polygon network is governed, protected, and network trading fees are paid using MATIC.
The same collection of data centers as the New York-based trades, Equinix NY Datacenters, is where they formed a lease. This indicates that it has virtually no delay and better accurate information from several other Fintech firms.
Features
The APIs from Polygon.io offer archived and factual data extraction for Equities, foreign exchange, and cryptocurrencies. 
Polygon.io provides ultra-low-latency data on the US market. 
Implement the current blockchain platform and create unique blockchains
Make it possible for Ethereum and other blockchains to communicate
assist in making current blockchain systems interoperable with Ethereum
Advantages
Polygon can continue to process transactions quickly by employing a consensus method that accomplishes the faster transaction procedure in a single block.
The execution of a block takes Polygon an average of 2.1 seconds.
Real-time equity, FOREX, and cryptocurrency monitoring, multi-tool API.
Information has almost no delay.
Disadvantages
Not very user-friendly

5. Xignite
Every day, Xignite fulfills an astounding six billion API queries. Xignite was one of the initial market information transmission services offered in the cloud, and it runs on Amazon Web Services (AWS). They have attained both the AWS Financial Competence and Advanced Technology Partnership accreditation.
These distinctions acknowledge Xignite's deep expertise in assisting FinTech and wealth management companies in managing their trade data extraction and administration platforms.
Additionally, it provides competitive rates and limitless usage after you have secured finance and are prepared to start production. You are not compelled to purchase more information than you desire by complicated packages or licensing deals.
Features
These well-known financial and investment management firms, including MoneyLion, Wealthfront, Betterment, and Robinhood, rely on Xignite as their source for accounting transactions. 
When ramping up their task enterprise applications, users can reach Xignite's platform as much as they want because it provides "cloud-based," institution-grade APIs with an infinite API request quota.
Advantages
Cloud-based
continuous requests
Data extraction has almost no delay.
Disadvantages
Pricey
Not simple to use 

6. WebScrapingAPI
A straightforward, rapid, and reliable REST API called WebScrapingAPI can retrieve HTML from any internet page. The backend takes care of all potential obstructing elements, such as routers, JavaScript parsing, IP flips, CAPTCHAs, and many others. 
You might encounter several challenges when using a website data scraper, which WebScrapingAPI takes into account. WebScrapingAPI is an excellent all-in-one solution that can evaluate and scrape data based on any criterion.
WebscrapingAPI makes it simple to scrape additional web-based data and collect information quickly because of the power of its 100M+ Rotational Proxy servers. You may soon obtain the information you require with a few clicks.
Features
Obtain details from any website
Simple to use and customize
Scalable at the enterprise level and lightning fast
Quick scraping
Advantages
There is a free product introduction plan available.
Simple to navigate
Your product search is sped up with the help of daily updated, efficient filters.
Easy to access product information
Information on well-known, expanding, and underappreciated companies are helpful.
A blog and forum that is helpful.
Pricing starts from $49/month
Disadvantages
The free subscription service has a time limit.
Some elements are essential.
 Why choose WebScrapingAPI?
WebScrapingAPI is one of the best alternatives to Yahoo Finance because of its extensive data collection, potent analysis capabilities, and adaptable price. You may concentrate on your investments by using WebScrapingAPI, which provides you with everything you require in one convenient location with fewer interruptions and completing tasks.
The superior UI of WebScrapingAPI over Yahoo Finance makes it the obvious pick. In contrast to Yahoo Finance, which features commercials that may be annoying or distracting, WebScrapingAPI is ad-free, allowing you to focus on your work.
The main tools of Yahoo Finance and WebScrapingAPI are very similar. However, WebScrapingAPI's advanced capabilities are more powerful and customizable. The social network feed and personalized news displays of WebScrapingAPI make it much simpler to stay up to speed with big news.
Without having to build new code, you can transfer information from any source independently and securely using WebScrapingAPI. You may import, connect, transform, and enrich your information to make it analysis-ready using WebScrapingAPI's safe configurations with more than 100 resources and BI tools.
Significant brands like Infraware, SteelSeries, Deloitte, and others rely on WebScrapingAPI solutions because of these features.
Register for a free 30-day trial to check out the robust WebScrapingAPI package. You can also look at the fantastic price to help you choose the package that best suits your business needs.
Conclusion
For a financial Data API with access to multiple ports and a sizable number of equities to retrieve, the Yahoo Finance API had long been the go-to option. But consumers turned their focus elsewhere due to the abrupt termination of the Yahoo finance data API.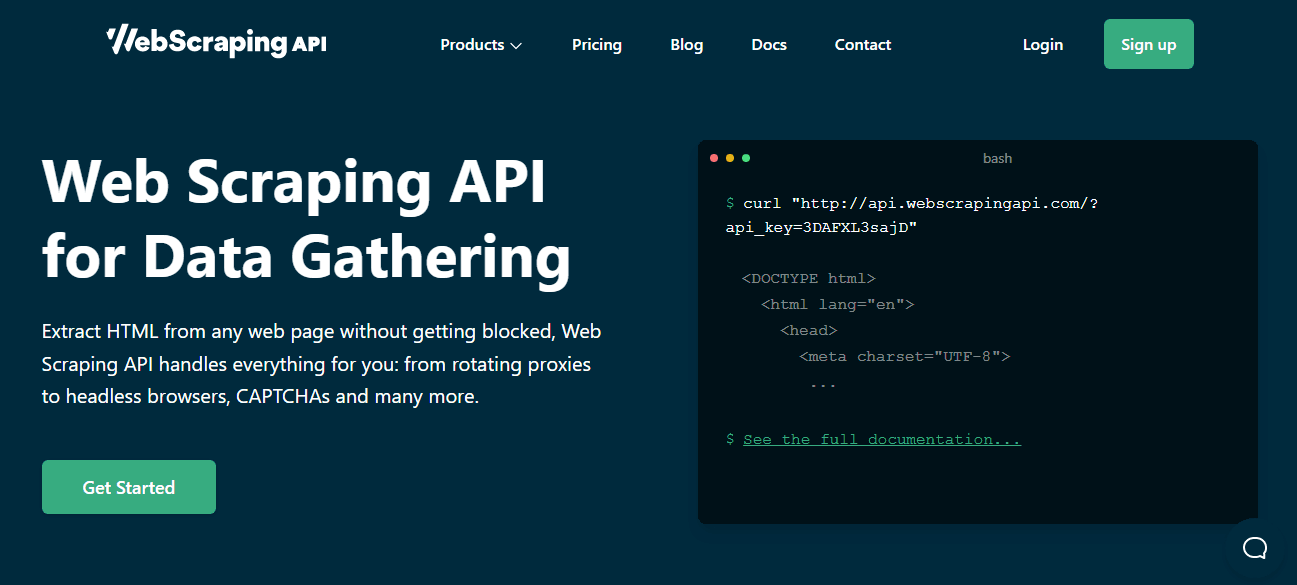 They discovered several excellent yahoo finance substitutes that turned out to have more dependable qualities than the earlier options. 
These competitors provide a variety of capabilities, some of which are more advantageous than the time-tested and reliable Yahoo Finance API.
WebScrapingAPI has the most notable features and comprehensive stock availability when choosing the finest free version among all the rivals. Thus, it is one of the best alternatives to Yahoo Finance API.
Related Topics: -
News and updates
Stay up-to-date with the latest web scraping guides and news by subscribing to our newsletter.
We care about the protection of your data. Read our Privacy Policy.