Web Scraper Tool Analysis and 7 Best Alternative Data Extraction Tools
WebscrapingAPI on Nov 08 2022
Web Scraper Tool might have offered you a solution for data extraction for many years. It has made extracting data from websites easy. Websites are constantly changing but Web Scraper Tool has still managed to get the process done. 
You can manually extract web data, but most people prefer using automated tools. They are cost-effective and fast. With web scraping, you scrape data from your target and export it to your preferred format. That is why you need a reliable tool.
Every tool has its features, and there is no single winner as every software has its pros and cons. The best way to choose the right scraping tool for your business is by understanding what it does, how it works, and whether it fits your budget.
Let's dive into knowing all about Web Scraper Tool: what it is, and its features. I have also included a list of possible alternatives you can try in its place.
Web Scraper Tool
Web Scraper Tool is a modern web scraping tool with a point-and-click interface. Everyone may use this easy and cost-effective web scraping program.
With a point-and-click interface, it can scrape thousands of records from a website. Scraper setup takes simply a few minutes.
Web Scraper tool makes use of a modular structure made up of selectors. The selectors instruct the scraper on how to traverse the website and what information to collect. This framework makes data mining from changing websites like eBay or Amazon straightforward.
Features of Web Scraper Tool
Web Scraper Tool is a primary web data extraction tool. It uses complex capabilities to retrieve the specific data you need. It has the following features: 
Data extraction from dynamic websites
Exploring scraped Data
Exporting data collected to Excel 
Data extraction from several pages
Different kinds of data extracted (photos, text, URLs)
You need no other software, just your web browser
Why Web Scraper Tool Might Not Be the Best Data Extraction Tool
1. Daas Solution
You want a DaaS solution for your web scraping work. Web Scraper Tool is not this. It would be best if you have a tool that you only have to submit your requirements and integrate the data. A great tool should deliver a solution suited for the user. 
2. Costs
Web Scraper Tool's packages start from $50 per month or $300 per year. It may be affordable, but you can get a better offer. WebScrapingAPI offers free solutions and the most affordable services at $25 per month. 
3. Scaling
This is a vital issue because most tools limit you. Depending on the selected plan, a limited number of concurrent runs may exist. You need an excellent scalability degree if you have varied frequencies and workloads. 
Web Scraper Tool has desirable features without a doubt. However, I think you can try other alternatives and see what suits you best.  That doesn't make a terrible tool. You just need to get value for your money.
Follow along as I share some of the web scraping tools I have tried that you can use in place of the Web Scraper Tool. 
Top 7 Web Scraper Alternatives You Need To Try
Here are my top 7 Web Scraper Alternatives. Let's dive in to get a deeper understanding of each alternative.
Prompt Cloud
Diffbot
PurseHub
Scrapy
Mozenda
Apify
WebScrapingAPI
1. Prompt Cloud
Prompt Cloud is a cloud-based web scraping service. It provides you with the ability to create automated requests. You can extract data from almost any website in seconds without writing code yourself.
Their service is used mainly by companies that need to extract data from websites regularly. This could include market research firms, SEO professionals, and other similar businesses. 
Pros
Web Scraping on enterprise or large scale
Cloud Scraping Solutions
 Live crawls and data mining
On-time extractions
Cons
You need vast computer knowledge
No customer support on weekends
The UI could be more intuitive
Pricing
Prompt Cloud offers a free trial period that lets you try their service for 30 days without paying anything. After this period has expired, 
Users are charged $99 per month or $149 per month after the trial if they wish access to their API. It can be paid by credit card or Paypal and is billed monthly at the end of each billing cycle.
2.  Diffbot
Diffbot is a cloud-based platform that can crawl websites and extract data. It can also crawl the internet, find new websites, and extract data from them.
The company was founded by two internet entrepreneurs in 2014. They had previously worked on several projects, including creating a web search engine. 
The founders knew that many companies wanted to extract data from websites but didn't have the resources to build their crawlers. So they decided to create a platform where these companies could access this technology without investing resources into building it themselves.
The company offers two products. The first is a platform for crawling and scraping websites. The second is a crawler that can gather information from the web. 
Their services are mainly used by companies and individuals who want to discover new content on the web and extract data from it.
Pros
Use of open standards
Easy to use
NLP algorithms and state-of-the-art computer visions
Subscribe to any website changes using the followAPI
Cons
Expensive
Cannot scrape data from websites using Javascript to load content
Pricing
It's starting package at $299 per month
3. ParseHub
ParseHub is a web service that extracts data from web pages. It's an excellent substitute for Web Scraper Tool. It includes several features that make it simple for beginners to begin scraping.
ParseHub provides a free account with up to 5,000 records each month. It also has premium plans with varying restrictions on the number of monthly records to access.
ParseHub is used by analysts, aggregators and marketplaces, sales leads, consultants, and journalists. Developers, eCommerce businesses, and data scientists have also employed it.
Pros
Automatically collect and store data
Graphical User Interface is easy to use
IP rotation
Cons
No user customizability
Incomplete scraped results
Pricing
There is a free plan with no IP rotation and saving images and files to Dropbox.
The price for the standard package is $189 per month.
4. Scrapy
Scrapy is a framework for extracting data from websites. It's written in Python and makes it easy to write web crawlers, which can then be used for scraping, data mining, information extraction, or any other application that requires users' information.
Scrapy is free, open-source software (FOSS), licensed under the GNU General Public License version 2 or later.
Scrapy runs on Linux, Mac OS X, Windows, and BSD. It uses Twisted for networking and can be used from any programming language with an HTTP library.
Pros
Portable Python
Open source
Well documented
Cons
You require some knowledge of computers
Time-consuming 
Pricing
Free download for everyone.
5. Mozenda
Mozenda is a web scraping tool that can extract data from websites. It's designed for data extraction, so it's perfect for scraping websites with dynamic content.
Mozenda is cloud-based, so you don't need any programming or software development knowledge—you sign up, start using Mozenda's API, and let it do its thing!
It's easy to use so you can get started right away. There are no coding skills required, and the platform even includes built-in training modules to help you learn how to scrape a website. 
Mozenda also has a user-friendly interface that makes it easy for anyone to start web scraping.
Pros
On-premise hosting
Harvest data in real-time
Offers support to email and phone customers
Cons
Complicated pricing model
Not suitable for startups and small businesses
Pricing
The scale of your project will determine your plan and pricing
6. Apify
Apify is a cloud-based platform for automating web crawling, data extraction, and processing. It allows you to create a crawler that can be run on-demand or scheduled. It is built on top of the open-source Scrapy framework.
It has a simple API and web interface, making it easy for beginners and advanced users. The Apify API also provides powerful features like:
The Apify Platform has an advanced AI engine that automatically detects patterns in the raw data and extracts them into practical formats such as PDFs or Excel spreadsheets!
Pros
Flexible scheduling so you can run your scripts whenever needed;
A point-and-click UI that does the coding for you;
Extraction of almost any type of content from websites (HTML/XML/JSON) at scale with minimal effort;
Cons
Not user-friendly
It does not function on some websites
Pricing
Apify has a forever free package but has limits
The personal package starts at $49 per month
7. WebScrapingAPI
Using WebScrapingAPI has given me access to one of the best user-friendly interfaces. Using such an interface has been one of my most remarkable experiences in web scraping. Moreover, I get access to such UI for just $49 a month—no more worries on my end.
Moreover, WebScrapingAPI offers customizability on top of a user-friendly interface. I can use simple mouse clicks to customize headers, sticky sessions, and many more. What better way to get value for my money? 
A transparent backend is one of the other best experiences I have had with WebScrapingAPI. I have access to good API documentation and vast knowledge of every client. And did I mention how WebScrapingAPI has excellent technical proficiency with over 100 million proxies?
That means you can't get blocked when extracting data from websites.
Further, this API provides EVERY user with Javascript rendering. You get a clear image of what your target websites are displaying. How cool!
Let's not forget that AWS has backed WebScrapingAPI since its infrastructure is built from it. That guarantees you access to a secure data center and uptime. 
How better can the offer get? You cannot resist such an API.
Pros
Built on AWS
Speed Obsessive Architecture
Customizable features
EVERY package has Javascript rendering
High-quality services uptime and stability
Affordable packages
+100 million rotating proxies to reduce blocking
Cons
None found yet
Pricing
14 days free trial with all the packages
The starting plan is $49 per month. You get standard email support, ten concurrent requests, data center proxies, Javascript rendering, and 100000 API calls.
Why WebScraping Takes the Lead
WebScapingAPI takes the lead over the other alternatives. Why? Because everyone gets all their solutions under one API. WebScrapingAPI does not compromise having a user-friendly interface, unlike other alternatives with complicated user interfaces.
So, it is clear that many tools are available for scraping and data extraction from the web. But we still need to choose the one that suits our purpose best and fits our budget. So, in this article, we have discussed the top 5 web scraping tools for you to use in your job as a content strategist or analyst.
WebScrapingAPI is a lovable but aggressive API. It will get your job done well.
Moreover, WebScrapingAPI is backed up by AWS since its infrastructure is built on it. Why does this matter? Let me put it out plainly. If you want to access information on early computer solutions, you can find it in a world library better than in a local library.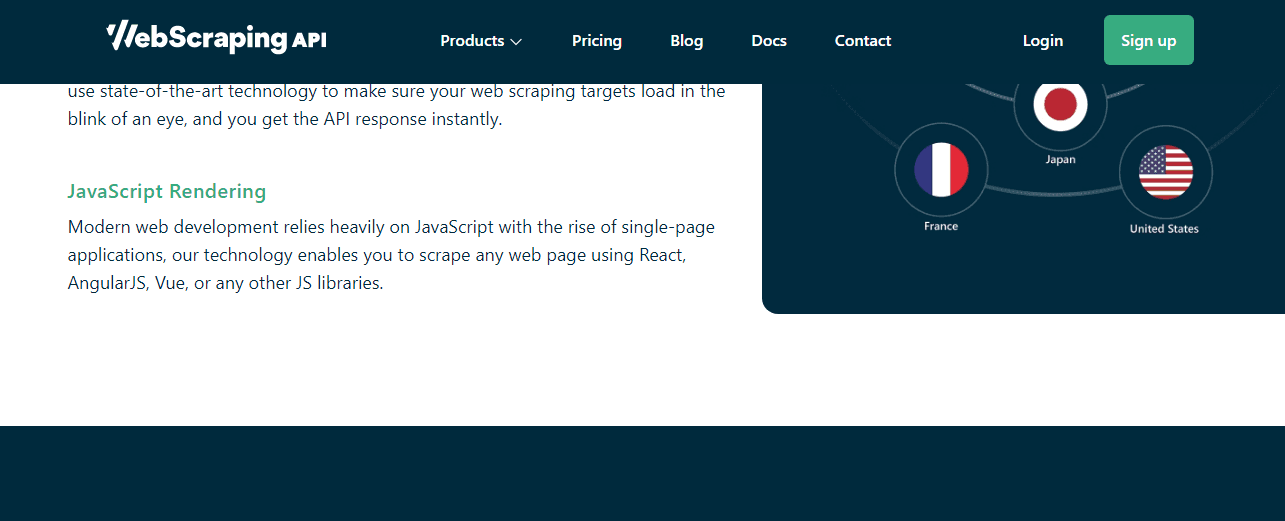 Having access to Amazon Web Services is like accessing the world data center. It is a reliable, secure, and extensible data center. That is why companies like Deloitte and Wunderman Thompson trust WebScrapingAPI for their solutions.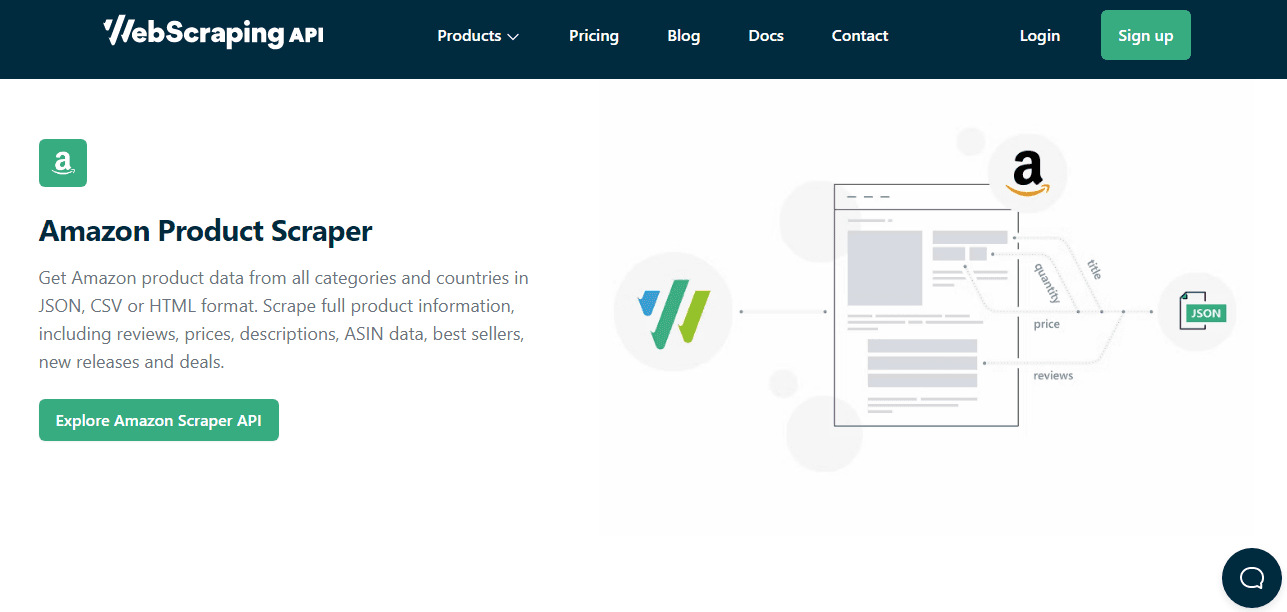 Further, the customizability that this API offers is one of a kind. You can retrieve all the data you need with mouse clicks picking the exact information you need from IP geo locations, sticky sessions, and headers. 
What a great way of saving your money and time!
Think of it this way. You can use such information to gain a competitive advantage over your competitors. You can then offer your clients value for their money or a better deal than your competitors.
Also, potential investors can use information from financial data to make investment decisions. That will enable them to know whether their investments will bear profits or result in financial losses.
WebScrapingAPI is one of the most pocket-friendly APIs out here. With only $49 per month and a 14-day free trial, you get standard email support, ten concurrent requests, data center proxies, Javascript rendering, and 100000 API calls.
WebScrapingAPI has been designed to be simple and reliable to individuals, startups, and small and big businesses. That's what makes it at the top of my list. It will offer you all the services you need for your web scraping sessions.
News and updates
Stay up-to-date with the latest web scraping guides and news by subscribing to our newsletter.
We care about the protection of your data. Read our Privacy Policy.