WebHarvy Alternatives: Top 7 Best Product Scraping Tools
WebscrapingAPI on Oct 24 2022
WebHarvy is a web scraping tool that allows you to extract data from websites with ease. With WebHarvy, you can scrape data from websites without writing any code. With its intuitive user interface, you can point and click to select data to be extracted, and WebHarvy will do the rest.
WebHarvy is the perfect tool for anyone who needs to extract data from websites. Whether you're a business owner who needs to collect data for your business, a student who needs to scrape data for a research project, or anyone else who needs to gather data from the web, WebHarvy is the tool for you.
WebHarvy can automatically crawl and scrape data from websites, making it the ideal tool for web scraping.
What Can You Do With WebHarvy?
Intelligent Pattern Detection
WebHarvy recognizes data patterns that appear on online pages automatically. No further configuration is needed to scrape a list or table of items (name, address, email, price, etc.) from a web page. WebHarvy will automatically scrape repeating data.
Several formats can be used to save scraped data. You can save the scraped data using the current version of WebHarvy's web scraping software as an Excel, XML, CSV, JSON, or TSV file. The data can also be exported to a SQL database.
Websites frequently present information like product listings or search results across numerous pages. Data from several pages can be automatically indexed and scraped by WebHarvy. Indicate the "link to the next page," and WebHarvy will gather information from every page.
You can scrape data by automatically submitting a list of input terms to search forms. To search, enter any number of terms in the input text fields. It is possible to scrape information from search results for all possible word combinations.
You can choose to access target websites through proxy servers or VPNs to scrape data invisibly and avoid having the web scraping program blocked by web servers. It is possible to utilize a single proxy server or a collection of proxy servers.
The matching portion of web pages can be scraped using regular expressions (RegEx), which can be applied to the text or HTML source. While data-scraping, this effective technique gives you greater freedom and control.
You can scrape information using WebHarvy from a collection of links that point to related pages or listings on a website. You may scrape categories and subcategories from websites with just one configuration.
You can download images or scrape image URLs. WebHarvy can automatically scrape multiple photos displayed on eCommerce website product detail pages.
WebHarvy can be configured to perform tasks like Clicking Links, Selecting Lists/Drop-down Options, Input Text to a field, Scrolling a page, Opening Popups, etc.
Before scraping data, run your JavaScript code in the browser. You can use this to interact with page elements, change the DOM, or call JavaScript commands already present on the target page.
Why do we need a WebHarvy alternative?
The key question now is, why do you need a Webharvy alternative? Webharvy might be a good web scraping tool, but it lags behind rivals who charge less for several cutting-edge features. Having said that, many modern web scraping tools are made to be able to meet all of your needs.
Top 7 Useful WebHarvy Alternatives
Octoparse
Octoparse can extract data from websites without writing any code. It is easy to use and can handle large amounts of data.
If you are looking for an easy-to-use Web scraping tool, then Octoparse is an excellent option. It has a user-friendly interface with various features to help you get the data you need.
One of the great things about Octoparse is that it can handle static and dynamic Web pages. This means you can use it to scrape data from sites built using technologies like AJAX and JavaScript.
Features
Point-and-Click Interface
Deal With All Sorts of Websites
Cloud Extraction
Automatic IP Rotation
API, CSV, Excel, Database
Schedule Extraction
Pros:
Price tracking and observation. Take information from your competitors. Easily scrape live data with a few clicks.
Utilize web data that has been scraped to enhance your marketing plans. Improve your forecasts and choices.
Cons:
Octoparse can be slow on some websites. Some website owners have implemented measures to prevent web scraping, which can make Octoparse slow on those websites.

2.ParseHub

If you're looking for a robust Web scraping tool, ParseHub is an excellent option. It offers a free plan with unlimited projects and pages.
Features:
Desktop application
Cloud-based
Rotation IP
Scheduled Collection
Regular Expressions
Webhook & API
Excel & JSON
Pros:
Any interactive website is scraped
Simple to Use: No Coding Necessary!
Extremely Strong & Flexible
Cons:
ParseHub is a paid tool. If you are just starting with web scraping, you may not be ready to invest money in a tool just yet.

3. Mozenda
Mozenda is a web scraping tool that makes it easy to collect data from websites. It has a point-and-click interface that makes it easy to select the data you want to collect, and you can export it to various formats.
Features
Analyzing and Visualizing of data
Data integration
Organization of data files
Pros:
It is easy to use and has a friendly user-friendly interface.
Mozenda can be used for market research.
Cons:
The tool can be difficult for beginners, and it may take some time to get the hang of it.
Mozenda may not be the best option for small-scale projects.

4. Apify
Apify is a web scraping and automation platform that enables developers to extract data from websites and automate workflows easily. It offers a wide range of features, including an intuitive point-and-click interface, support for JavaScript and Puppeteer, and the ability to run scrapers in the cloud or on your server.
Features:
Any system can be integrated
Automating any online process is possible.
Broad developer ecosystem
Accessing information from any website
Pros:
Apify can scrape social media, websites, and other sources. Web scraping is a quick and straightforward technique.
Apify is adaptable. You can scrape websites with Apify in different ways.
Cons:
Apify can be slow. Depending on the website size you're scraping, it can take some time to collect all the data.
Apify can be blocked. If a website detects that you're using Apify, they may block your access.

5. ScraperWiki
ScraperWiki is an effective data scraping tool that can handle even the most complex tasks. It's easy to use and has many features, making it an excellent option for those looking for a WebHarvy alternative.
Features:
No matter how complicated or secure a website is, ScraperWiki can extract data from it.
Creates valuable data from unstructured information.
Wide variety of output formats: ScraperWiki can output data in various formats, including CSV, JSON, XML, and SQL.
Pros:
Even for people who are not highly technical, using ScraperWiki is relatively simple.
It allows for the large-scale data scraping of websites.
ScraperWiki lets you view the data you've scraped in various formats (CSV, JSON, XML, etc.), making it easy to work with.
Cons:
ScraperWiki can be slow. If you're scraping a lot of data, it can take a while for ScraperWiki to process it all.

6. DataMiner.io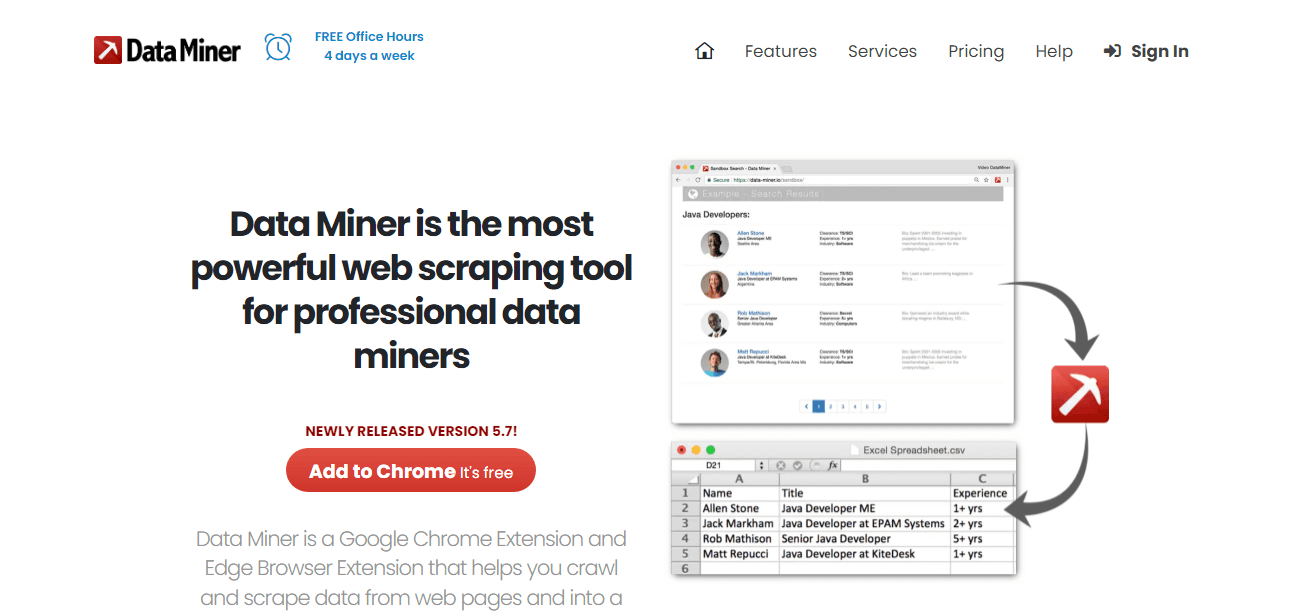 DataMiner.io is a web scraping tool that enables users to extract data from websites with ease. The tool has many features that make web scraping easier and more efficient. 
Features
API hooks for Javascript
Browser extension
Extract Paginated Results
Run Custom Javascript 
One click Scraping
Scrape site behind login and firewall
Pros:
Scrape a list of URLs
You can Create a recipe for any files
Scrape any simple table quickly.
Cons:
It can be slower than some other web scraping tools.

7. WebscrapingAPI
WebscrapingAPI is a web scraping tool that makes it easy to scrape websites and extract data. With WebscrapingAPI, you can scrape websites without coding or using complicated web scraping tools.
Features
Scraping of Google Search Results
API scraper
Scraping of Amazon products
Lightning-fast scraping and enterprise-grade scaling
Using JavaScript to render
Data fingerprinting AI and clever proxy rotation techniques
Cloud Infrastructure
The Amazon Scraper API is a powerful real-time data extraction tool for Amazon. With a single cURL query, you can obtain information on goods, categories, best-sellers, and much more.
Furthermore, WebScrapingAPI handles all of the logic and evasions required for data extraction from Amazon. This API returns results in well-structured JSON, CSV, or HTML formats. You only need to focus on processing the data rather than extracting it.
Any company selling or dealing with Amazon must meet specific criteria. One of them is a real-time analysis of the company's best-selling products. The Amazon Bestsellers feature returns a structured JSON object. In real-time, the JSON object contains the most popular Amazon products. You can also write a script that scrapes eBay for products and pricing.
Pros:
Information is accessible on any website: WebScrapingAPI manages all potential blocking points in the backend, including proxies, Javascript rendering, IP rotations, CAPTCHAs, and many others.
Simple to use and customize: You can experiment with headers, IP geolocation, sticky sessions, and many other options using our comprehensive capabilities to customize your requests to your specific needs.
Lightning-fast scraping and enterprise-grade scaling: More than 10,000 businesses utilize our monthly API to gather more than 50 million pages. Use WebScrapingAPI to get top-notch professional services.
Cons:
No drawbacks were discovered for the WebScraping API. We almost certainly won't be able to discover any, and neither will you.
Why WebScrapingAPI is my Top WebHarvy Alternative
The WebscrapingAPI website has a thoughtful design and quality construction that immediately attracts your attention. However, you might be wondering what that has to do with anything. It indeed reveals a lot about the company. A company is more likely to draw in good business if it executes successfully on the first thing customers notice.
Here is what you get from WebScrapingAPI;
If you've ever needed to get data from a web page but found the process of doing so to be cumbersome, our ScraperAPI feature is here to get the job done. With our easy-to-use API, you can get raw HTML from any web page with just a few simple clicks. 
Plus, we automatically handle proxies, JavaScript rendering, and CAPTCHAs, so you can focus on getting the data you need. Whether you're looking to gather data for research or analysis, ScraperAPI is your tool.
Google Search Engine Results Scraper
Google Search Engine Results Pages (SERPs) is an excellent data source for businesses and individuals. WebScrapringAPI can help you extract this data quickly and easily, so you can focus on using it to improve your business.
With WebScrapringAPI, you can scrape SERPs for ads, organic results, maps, images, shopping data, reviews, knowledge graph information, and more. You can also transform search queries into structured JSON, CSV, or HTML data. This makes it easy to get the data you need, so you can focus on using it to improve your business.
ScraperAPI is an excellent tool for businesses and individuals who want to get the most out of their data. With its easy-to-use interface and powerful features, ScraperAPI is the perfect solution for extracting data from SERPs.
WebScrapringAPI is the perfect tool for anyone looking to collect Amazon product data. With WebScrapingAPI, you can get complete product information, including reviews, prices, descriptions, ASIN data, best sellers, new releases, and deals, from all categories and countries in JSON, CSV, or HTML format.
Some added features of WebscrapingAPI include 24-hour monitoring and nearly 100% uptime. 
When you start using this program, you get mass web crawling, speed obsessive architecture, JavaScript rendering, and many other helpful features. We advise you first to test their free trial if you're unsure and want to determine if the tool would be a good fit.
WebScrapingAP has various pricing plans, depending on your needs. The starter plan starts at $49 per month, and the enterprise plan starts at more than $849 per month. You get custom volume API credits, Amazon search API, product extraction API, priority email support, and a dedicated account manager.
Which WebHarvy Alternative Will You Pick?
WebScrapingAPI comes out on top among other alternatives. Why? The tool offers 99.99% uptime, clean code, mass web crawling, the most contemporary architecture to increase performance, a variety of value-loaded plans, and the confidence of 10,000+ enterprises worldwide.
Additionally, you can test out all these features for free throughout their trial period. In contrast to many businesses, the WebScraping API offers all of its core capabilities throughout the free trial.
So, if your goal is to collect data from websites, WebscrapingAPI is the brand you can rely on.
News and updates
Stay up-to-date with the latest web scraping guides and news by subscribing to our newsletter.
We care about the protection of your data. Read our Privacy Policy.