Wget Alternatives? A Brass-Tacks of 20 Tools and Your Best Bet.
WebscrapingAPI on Oct 22 2022
If you are searching for an Alternative to Wget, check these Top 20 Alternatives to Wget Free Download for Windows. You can also try them on Mac, Linux, and Windows.
Finding an alternative to wget is a difficult task because there are more than 50 software packages available for various platforms like Mac, Linux, Windows, and BSD. You can choose the Best Alternative to Wget from the list here.
What is Wget?
Wget is an open-software package for retrieving content from web servers. This package uses HTTP, HTTPS, FTP, and FTPS to retrieve the data, which are widely used Internet Protocols.
Its name is defined by "World Wide Web" and "get", so its primary goal is to download data files from the web. It is also a part of the GNU Project. If you don't have an idea about GNU, then let me explain.
What is GNU?
 GNU - GNU's Not Unix - is a massive collection of free software that can be used as an operating system, or some parts are used in the operating systems. Many GNU Tools are built for a single operating system which is Linux. They call it a Unix-like operating system or Linux Family.
Brass-Tacks of 20 Wget Tools
Let's cut to the chase and supply with you some go-to options along with my favorite based on usability, capability and services offered.
1. Aria2
Aria2 is an open-source multi-protocol & multi-source command-line download utility. It is lightweight and supports HTTP/HTTPS, FTP, SFTP, BitTorrent and Metalink. You can download aria2 on Mac, Linux, Windows, Android, and Xfce.
Aria2 can be a great alternative to wget but let's see other applications too. Aria2 has CLI sort and consumes fewer device resources compared to other applications. It does not contain any external advertisement in its application.
2. uGet
uGet is one of the Best Download Managers for Linux, a lightweight and powerful open-source software that consumes fewer device resources than similar apps. It can be used as a USB Stick or identical with no prior installation process.
You can try this as an alternative to wget because you can resume interrupted downloads anytime. uGet has either CLI support or a CLI-only app.
3. HTTPie for Terminal
HTTPie is a human-friendly command line for HTTP clients. It is designed for testing, debugging, and generally interacting with APIs and HTTP servers. Its goal is to make CLI interaction with web services as human-friendly as possible.
You can perform Web Testing, REST API,  API Management, and HTTP Client requests using this HTTPie. That's why it is pronounced as aitch-tee-tee-pie.
4. Aria2 WebUI
Aria2 WebUI is an open-source web frontend software for aria2. It has the best user interface to interact with aria2, allowing users to download files from any website using a human-friendly software interface.
It supports operating systems like Mac, Windows, and Linux. It is a Web-based Download Manager that has a friendly Web Interface.
5. PageArchiver
PageArchiver is a Google Chrome Extension available for free that helps users Archive web pages for offline reading. It supports Mac, Windows, and Linux operating systems. You can download it from its official website, or it is available on GitHub.
You need to insert any specific website link in the search bar and start capturing the entire web data of that website. If you don't want to add an extension to your chrome browser, you can directly use its web page.
6. KGet
KGet is a user-friendly and versatile Download Manager for KDE. Here KDE means K Desktop Environment. By default, it is the download manager used for Konqueror, but you can also use it with Mozilla Firefox.
KGet is a part of the KDE Network package, where you can download files from FTP, HTTP, HTTPS, and BitTorrent sources.
7. Progressive Downloader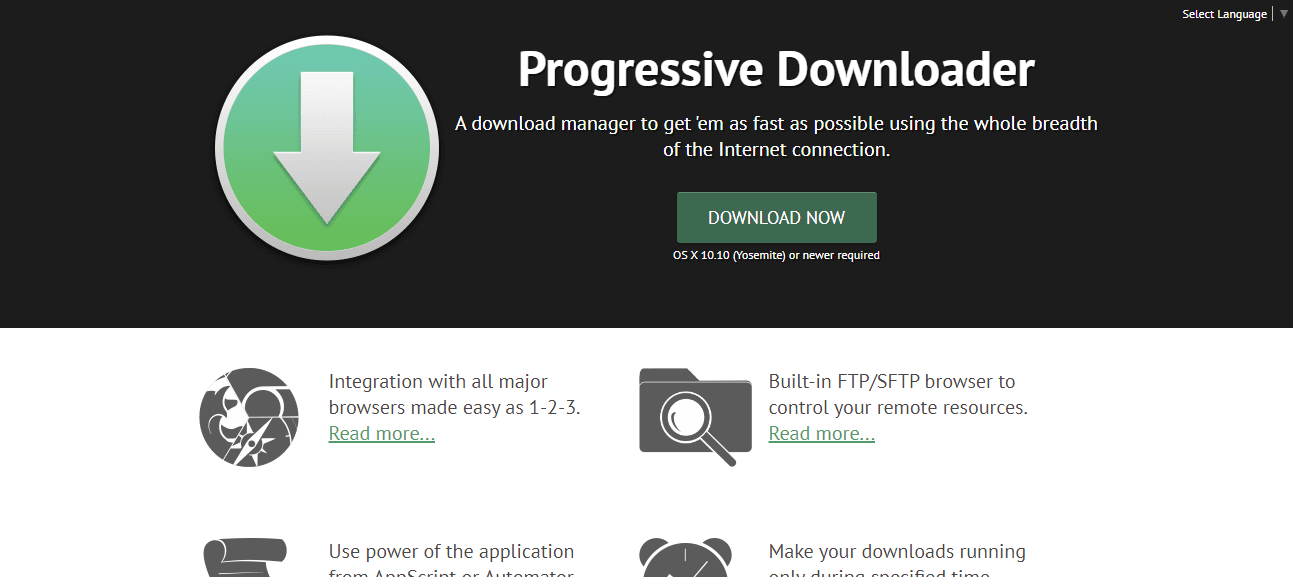 It is an open-source download manager for your Mac which supports a multi-thread downloading process and mirror search feature. It can also download files from the most popular file-hosting services.
Currently, it supports only Mac operating system, but it is available for free, so it is worth having a place in the list of alternatives to wget.
8. WebCopier
WebCopier is another easy-to-use website mirror utility. We all use these tools to extract data from websites for the same purpose. You should use this tool if your wallet is complete because it is Paid software.
It supports both Mac & Windows operating systems and allows the user to download entire website data, store them locally and view them later at any time.
9. Offline Pages Pro
It is one of the world's most advanced offline browsers that download entire website data in one go.
It extracts web data, including documents, video content, images, client-side interactivity, and text format, where you can browse offline without any Internet connection.
It is a paid software tool built under a proprietary system that only supports iOS devices like Mac, iPhone, and iPad. You can experience offline browsing and offline reading using Offline Pages Pro.
10. Curlie
Curlie is an open-source data-extracting tool available on the internet for free. It supports multiple operating systems like Mac, Windows, Linux, and BSD. Curlie itself defines a collector of various URLs from the internet.
If you like the interface of HTTPie, you will also like Curlie, which has the curl program integrated into it as an extra feature.
11. PageFreezer
PageFreezer is a Saas company which offers monitoring and data archiving of online content like websites, social media sites, text messages, and team chat. It will collect your online content automatically and securely and utilize it in a required industry format.
It is a paid tool built under proprietary schemes. You can get this tool from its official website, which costs $99/month. Pricing depends on the user because some companies use more features than usual, so pricing is decided based on the requirement.
12. WebZIP
WebZIP is an offline browser that downloads entire web pages, including images, audio and video content, and other media files, to your hard drive to browse them offline.
You can download this offline browser for free without any subscription plans. It offers a fast and easy way to download, store and view web pages offline. It currently supports the Windows operating system but may develop its services for other platforms.
13. FlareGet
FlareGet is a download manager, fully featured with a multi-thread option, works as an accelerator, and supports browser integration through add-ons.
It is free and supports operating systems like Windows, Linux, and Mac. The user can also choose FlareGet Pro, a paid version that costs nearly $19 for a lifetime subscription.
14. cURL
cURL is a computer software project which provides a library and command-line tool for transferring data using various protocols. It supports multiple URL syntax formats like FTP, FTPS, SCP, SFTP, HTTP, HTTPS, TFTP, LDAP, and FILE.
It is open-source and available for free and supports various platforms like Mac, Windows, Linux, BSD, Cygwin, and Haiku.
15. ArchiveBox
Modern websites are complicated and rely on dynamic content. Tackling this,  ArchiveBox is a powerful, self-hosted internet archiving solution to collect, save and view sites you want to preserve offline.
ArchiveBox can archive the sites in several different formats compared to other solutions. It is open-source and supports Mac, Windows, Linux, and Docker platforms.
You can try this as a Web Archiving Service or Network Tool.
16. WebCopy
WebCopy is another free tool for copying full or partial website data into your local storage for offline viewing. As we all are searching for a web data downloader, WebCopy will be the best choice for downloading website data and saving it for offline use.
17. Allavsoft
Allavsoft is a freemium software that allows users to download different file formats like Video, Music, and Subtitles from various platforms like YouTube, Spotify, Udemy, Lynda, Facebook, Vimeo, DailyMotion, Coursera, and Crunchyroll.
It is named a YouTube Downloader and Video Downloader because it can download video and music files and works as a Built-in player. It supports Mac and Windows operating systems and can convert Spotify into MP3 music files.
18. VisualWget
VisualWget is an open-source download manager that uses Wget as a core retriever to retrieve files from web pages. It works as a GUI frontend framework for Wget that gives you all the functionalities from Wget.
It is free software that supports only Windows operating system. Able to fetch documents, archives, pictures, and HTML resources. It can queue downloads and features with Download Scheduler.
19. Cliget
Cliget is another open-source, free add-on for the Firefox web browser that allows the user to download email attachments, purchased software, media files, and source code from a private repository to a remote server without downloading the files in the local system.
You can get this Download Manager from its official website. This addon will generate commands that emulate the request from the browser. Since it is an add-on only for Firefox Web Browser, you may not use it on other browsers.
If you come across a website where cliget doesn't work, please open an issue providing details to help reproduce the problem.
20. WebScrapingAPI
Capable, clean and trusted by over 10,000+ companies worldwide with a starting plan of $49. 
WebscrapingAPI practically sells itself and is why it is my top-choice for a wget tool.
It offers  a straightforward and efficient REST API interface for scraping web pages at scale. It enables users to scrape websites effortlessly and extract HTML code.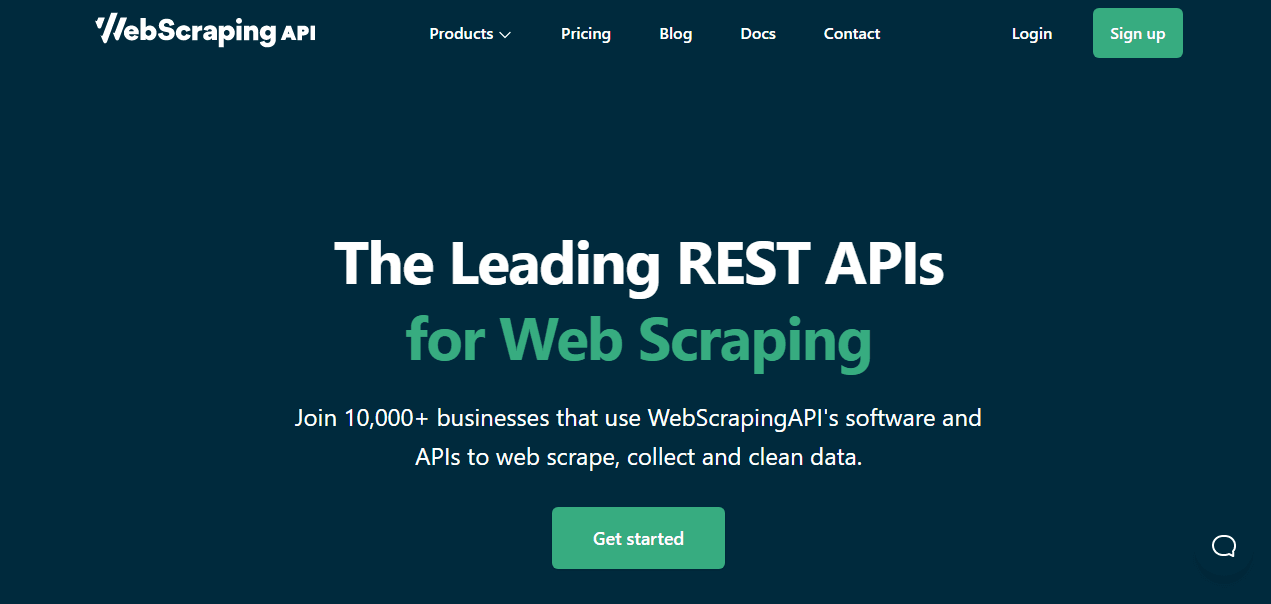 Features
Automatic Scaling, 24/7 Monitoring, Mass Web Crawling, and High-Speed Obsessive Architecture
Ultimate Javascript Rendering
Easy API call Customization using various development languages
Collect Data from any kind of Webpage
Easy to use and easy to customize
Web Scraping with lightning speed
Powered by Amazon Web Services
Millions of API Requests every month
100+ Rotating Proxies with Real-time unique ISPs
Offers Unlimited Bandwidth with speeds up to 100Mbps
Pricing
WebscrapingAPI offers Free Trial for 14 Days with full features.
It costs $49/month for 1,00,000 API calls and 20 Concurrent API Requests.
It costs $149/month for 1,000,000 API calls and 50 Concurrent API Requests.
It costs $299/month for 3,000,000 API calls and 100 Concurrent API Requests and It costs $799/month for 3,0000,000 API calls and 500 Concurrent API Requests
Customized options are available for the users, and the pricing depends on the usage.
Which software is better for Web Data Extraction
WebScrapingAPI is ranked first among all the Alternatives to Wget. The primary benefit is that it allows the user to try Free Trial for all the Subscription Plans.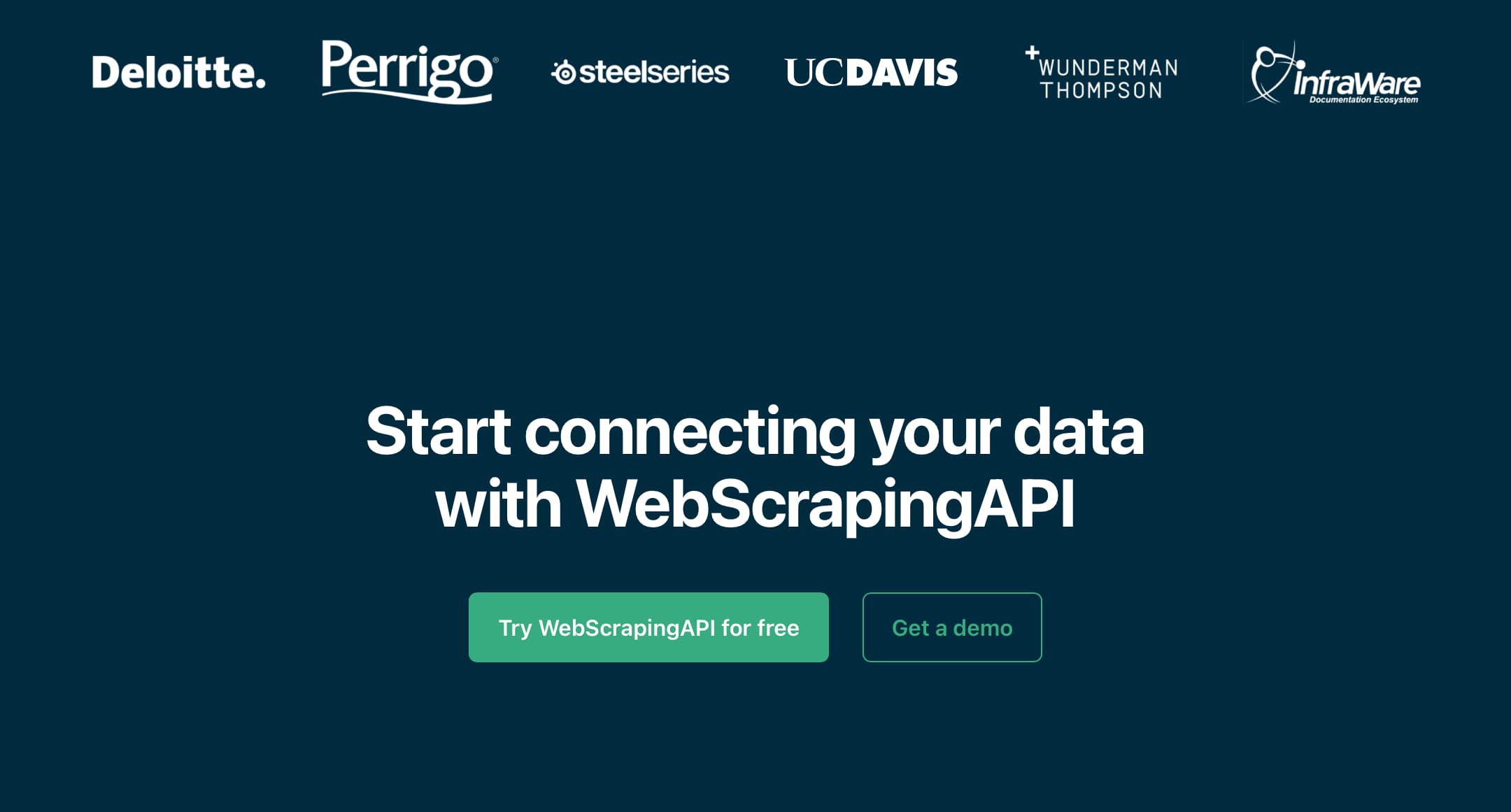 All Multinational companies process their data using WebScrapingAPI. Moreover the democratic nature to provide features like JavaScript rendering- an extremely helpful tool to view what your clients see on their website- shows just a glimmer of its overall prowess. Try it all for free, I mean why not?
Suppose you still have any doubts regarding WebScrapingAPI Pricing. In that case, you can directly visit its official website from here and check out all the features and pricing details.
News and updates
Stay up-to-date with the latest web scraping guides and news by subscribing to our newsletter.
We care about the protection of your data. Read our Privacy Policy.