Top 7 ProxyScrape Alternatives: Your Ultimate Guide to Web Scraping
WebscrapingAPI on Sep 29 2022
For years ProxyScrape has been a prime competitor in the Web Scraping space. However, we'll soon see that all that glitters is not gold.
Join me in exploring how many of its features-though, once sufficient- fall short of what other competitors offer in today's market, both in terms of firepower in the number of IPs and factors such as customizability and uptime guarantee.
But don't worry, I've provided a list of my Top 7 ProxyScrape alternatives
For the uninitiated, however, let's first clear up exactly What Web Scraping Is? and What is it used for? 
What is Web Scraping?
So what is Web scraping exactly? Web Scraping uses bots or web crawlers to extract valuable data from a target website or web page.
Web Scraping is like an x-ray of a website, except in this case, you can also make a copy of the bones to examine or use as one of your own later! Neat, right? So let's give a hand for mass Web crawling and Data extraction!- Now that you have the limbs to spare.
What is Web Scraping Used for?
Newton said: "If I have seen further, it is by standing on the shoulders of giants."
This statement embodies the spirit of Web Scraping: analyzing existing data and using it according to our needs.
The chief uses of web scraping are: PriceMonitoring, Market Research, News Monitoring, Sentiment Analysis, and Email Marketing.
Now that we're all caught-up, let's look at the major players in the Web Scraping space.
ProxyScrape
Headquartered in Mechelen, Antwerpen, ProxyScrape has been a go-to for casual web scrapers since its inception in 2020. 
The site itself is simple enough; however, from the get-go, the pop-up chat support is a little disruptive and gets in the way of clumsy fingers. 
Though the 99% uptime guarantee and 60 000 datacenters proxies might sound impressive for the novice user, it is slightly dated compared to the 99.99% of BrightData, for example, or the 100 Million+ Rotating proxies of WebScapingAPI. 
The more I looked, the more other Web Scraping tools had to offer. And ProxyScrape just fell off the mark both in terms of Proxies available and overall assurance that they can extract the data I need every time. 
It does deserve mention, however, that ProxyScrape provides a Proxy List for freebies. However, do not expect them to be fast or of excellent quality. Beggars can't be choosers. 
Though not my first choice, ProxyScrape does have some apparent credentials that have kept it a popular choice.
 Pros:
Unlimited Bandwidth.
Unlimited concurrent connections.
Easy-to-use dashboard to manage your proxies. 
Cons:
Only a 99% Uptime guarantee.
Not as many IPs as some of its competitors.
No clear indication that the tool is customisable.
No clientele list- does not lend confidence to a prospective user.
Pricing:
As far as pricing is concerned, ProxyScrape offers their lowest package at $24 /month (mixed region pricing) for 1000 proxies, while their most expensive package gives you a whopping 60,000 Proxies for a hefty $630/ month. 
Though it is a great price, it is not the best for your dollar.
So, to save others the trouble, let me share my Top 7 ProxyScrape Alternatives, and the one I found is the best bang-for-your-buck.
Top 7 ProxyScrape Alternatives:
So, here it is, my list of Top 7 ProxyScrape alternatives:
So, with no further delay, let's deep-dive into the list and see who comes out to claim the throne as the best Web Scraper out there…
1. ParseHub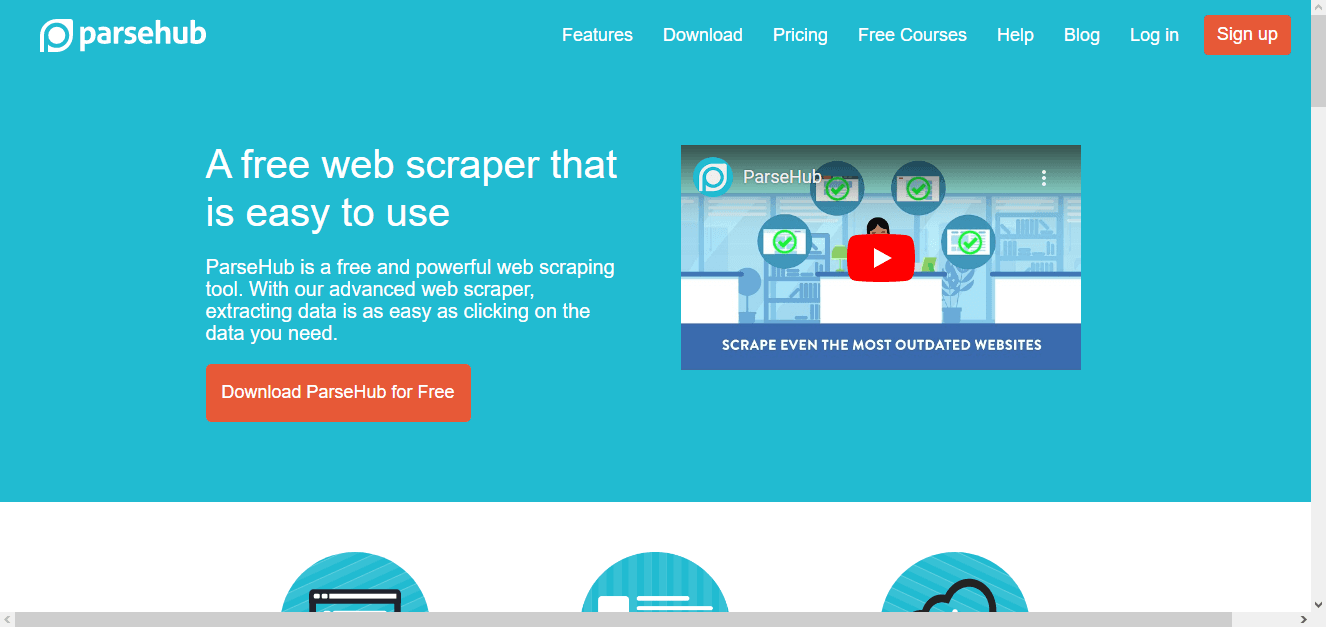 From the premise, the best quality of Parsehub, for me, is its approachability. 
The overall feel was immaculate with an easy-to-use Graphical Interface and features such as automatic data storage and client lists for macOS, Windows and Linux, leaving a very wholesome and satisfying Web crawling experience. 
However, though the clean and straightforward design is apt for most users, the more ambitious web crawler you might want to move on to something with a little more wingspan and flash (not the plug-in).
Pros:
Easy to Use Graphical Interface
Cleans Text and HTML before downloading data.
Automatic IP rotation
Allows you to collect and store data on servers automatically.
Has Clients for Mac OS, Windows, and Linux.
Cons:
At times, it does not publish the complete scraped Output.
Lacks customizability for the user. 
Pricing:
The standard package starts at $189/month. A Basic Free plan is also available but with only 14-day data retention.
2. Scrapy
I would say Scrapy is best suited for intermediate coders and computer geeks. Not only is this evident in its aesthetic but also its transparency as far as documentation goes as well as moldability in terms of extensions, and it is open-source.
Pros:
Open Source.
Well-documented.
Easily Extensible.
Portable Python.
Cons:
Time-consuming to inspect and develop to simulate AJAX/PJAX requests.
Not for everyone- requires some computer knowledge to comfortably use. 
Pricing:
Free download but requires a certain amount of computer know-how. Not suited for everyone.
3. OctoParse

Yes, Octoparse makes most lists, and it made mine too! I love the point-and-click screen scraper that almost makes this experience like an fps game. Had the site not required prime functionality only on cloud servers, it would have been my prime choice. However, halting after 4 hours in local extractions keeps it lower in our ranks. A worthy mention, nonetheless. 
Pros:
Site Parser and hosted solution for users who want to run scrapers in the cloud.
Point and click screen scraper- an easy interface for you to fill in for a, scrape behind login forms, render javascript, scroll through the infinite scroll, and much more.
Anonymous Web Data Scraping to avoid being banned.
Download Data as CSV, Excel, or API, or save it to databases. 
Schedule your scraping for any specific time--fancy!
Cons:
Running the tool with local extraction instead of running it with the cloud halts it after 4 hours, forcing the cumbersome process of recovering, saving and starting data at inconvenient times.
Pricing:
Monthly plans start at $75. They have a Free Plan for a measly ten crawlers with what they state as "lazy" customer support, but a nice feature to dip your feet in.
4. Bright Data (Luminati Networks) 
The user interface of Bright Data- formerly Luminati Networks- really puts you in the driver's seat with its customizable dashboard and structurality for data sets of ANY size, lending the user a sense of control and customizability.
Pros:
Customizable dashboard.
Browser Extension.
Data Unblocker.
Search Engine Crawler.
Proxy Management (open source).
Cons:
Weak local and online LPM when expanding multiple ports. 
Confusing documentation at times when executing various tasks.
Pricing:
Pay-per-use option costing $0.80/IP + $0.110/GB with residential, ISP and Mobile proxies varying from $15/ GB to $40/GB. 
5. Scraper API
Scraper API, in my opinion, sits somewhere in the middle regarding what they have to offer. They are "good enough" with 40 million IPs worldwide and a 99.99% uptime guarantee. They are sufficient for most of your Web Scraping needs. However, for $27/ month, it doesn't have the best firepower (nor the worst, mind you).
Pros:
99.99% uptime guarantee
Javascript rendering.
Easy to integrate.
Unique pools for E-commerce price scraping, social media and search engine scraping.
Cons:
Not suitable for browsing.
Not the best technical capabilities out there.
Pricing:
Their starting pack (Hobby) is from $27/month and includes 250,000 API calls, Standard Proxies and Email support, and their business plan costs $249/month.
6. Mozenda 
A cloud-based self-serve Web Scraping platform, Mozenda is unique both in its pricing module as well as in its features offered. Be warned that this is not for starting web crawlers The website's advanced features use processing credits which are determined by the user instead of a basic plan model.
Pros:
Provides both phone and email support to all customers.
Allows On-premise Hosting.
Harvesting data in real-time with blocking features and job sequencer.
Terrific in-class account management.
Cons:
Over complicated pricing model.
Suitable for big businesses and professionals, not your go-to if you are starting or are a small business. 
Pricing:
Uses processing credits to determine efficiency and pay for actual usage.
7. WebScraping API
From the interface to the customizability, if there's one word to describe this API, it would be worth-it! (that counts as one word, right?) 
Not only are they transparent on the back-end, providing API Documentation and a Knowledge Base for every client, but they also have incredible technical prowess with an army of 100 Million+ Proxies, meaning you won't get blocked.
The icing on the cake? They provide Javascript Rendering for EVERY client, which means the user gains a clear picture of what a target website displays. 
Think about it, see what the users see, and what a competitive edge that could be...
Moreover, being backed by Amazon Web Services guarantees mass data access with a near-perfect (99.99%) uptime guarantee. Honestly, I do not know how anyone could resist this product. Still, here are some of their best features, and read further to learn why these features make WebScrapingAPI a gold-mine of an asset for you and your business: 
Pros:
Javascript Rendering is provided in EVERY package.
100M + Rotating proxies to prevent blocking.
Built on Amazon Web Services.
Easily Customizable per your data needs. 
Cons:
Pricing:
Starter: $49/month - 100,000 API Credits, 20 Concurrent Requests, US/EU Geotargeting
Grow: $149/month - 1,000,000 API Credits, 50 Concurrent Requests, US/EU Geotargeting. 
Business (Recommended): $299/month - 3,00,000 API Credits, 100 Concurrent Requests, All Geotargeting. 
Pro: $799/month - 10,000,000 API Credits, 500 Concurrent Credits, All Geotargeting.
Enterprise: For businesses and individuals that require more credits and features, a tailor-made plan is provided. Contact for further information. 
14 Days Free trial available with full features.
Why WebscrapingAPI comes out on top?
WebscrapingAPI was the clear winner for me. Why? Because it's a clean one-click solution for everyone. And where others made up for their lack of capability with a user-friendly interface, this API compromises in neither.
It's cute yet ferocious; it'll get the job done.
The infrastructure is built on Amazon Web Services. Why does that matter? Well, think about it, if you wanted to find a book on Eastern medicine, for example, would you have a greater chance of finding it at your local library or at, say...any library in the world!?
That is what is happening when you have the resources such as access to AWS' data centers- a key to any back door in the world at your fingertips. That's probably why companies like Deloitte, Perrigo and Wunderman Thompson trust them for their web crawling and data needs.
Moreover, the customizability...oh, the customizability! Picking from Headers, IP geo-locations, and sticky sessions all at the click of a mouse, retrieve the exact data you need. I mean, that's money and a time-saver!
Just think of what you can do with that data- a fashionista can use the tool to get her hands on the competition's pricing and give her customers a better deal, or a prospective investor can get the latest Financial Data to make sure he knows whether it's bears or bulls in the world stock markets. 
The accessibility to JavascriptRendering-a key tool for visualising the interface of a target website- and premier global proxies for all customers is one of the reasons it is my favourite and more natural web scraping tool to use and I can't help but to keep coming back.
The democratic nature of WebScrapingAPI to be as easy and capable for both the individual and established businesses leads it to top my list as the best Web Scraping tool out there! It has all you need for your web crawling needs and saves you time and headaches from going anywhere else. Give it a try and join me in enjoying swift, streamlined and catered web scraping data at your fingertips!
News and updates
Stay up-to-date with the latest web scraping guides and news by subscribing to our newsletter.
We care about the protection of your data. Read our Privacy Policy.